Cambridge Pre-Packaged Olde English Paver Outdoor Fireplace Kit
Designed with small individual paver units, the Cambridge Pre-Packaged Olde English Paver Fireplace Kit has all the characteristics of a traditional brick fireplace. This fireplace is truly elegant and is pre-packaged complete with three pallets of Olde English Pavers, six concrete lintels and a top of the line Lennox™ stainless steel fireplace. It features stainless steel curtain pull screens, a stainless steel fire grate, a 4-foot high, air-cooled chimney and black powder coated termination cap complete with galvanized flashing. Also standard are refractory brick panels inside the firebox and five 6″ x 6″ polished granite tiles for the face on the front of the unit. Shipped as a wood burning unit, the fireplace can also be converted to gas. See instructions. Only minimal cutting of approximately 23 pcs. of Olde English Pavers is required. Step-by-Step instructions in English and Spanish are included.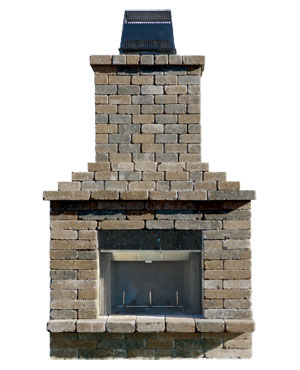 Dimensions: 7′ 4″ High · 4′ 10″ Wide · 4′ 1/4″ Deep
Firebox Dimensions: 20 3/16″ High · 36″ Wide · 20 1/4″ Deep Toffee/Onyx Shown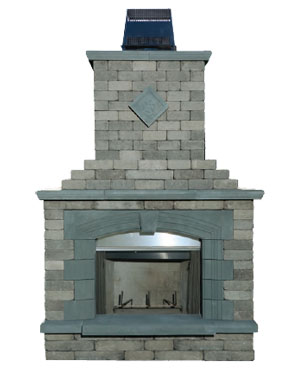 Cambridge Pre-Packaged Olde English Paver Fireplace Kit With Cast Stone Surround Deluxe
Complete with an arched design Cast Stone Fireplace Surround, full width hearth, mantel, chimney cap and 8 1/8″ x 8 1/8″ square medallion. Cast stone is available in 2 color choices: Bluestone and Chestnut. Fireplace is shown in Onyx/Natural with Cast Stone Surround in Bluestone.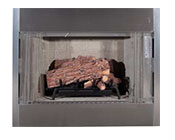 Optional Gas Insert
18″ Wide Stainless Steel Double Burner
Fits All Olde English Paver & MaytRx Wall Fireplaces
55K BTU
Refractory Cement Red Oak Log Set & Lava Rock
Optional Firewood Box Extension Kit
Firebox Dimensions: 31″ High · 40″ Wide · 36″ Deep Toffee/Onyx Shown